FACTORY VENTILATION AT IGUS NORTHAMPTON
In August 2014, Encon Air Systems was commissioned by igus® plastics to solve a stale air issue at their Assembly Plant in Northampton. We had previously worked for them at the site, installing air conditioning in their reception area.
Initial problem and preferences:
The summer months were producing a stuffy, balmy work environment for igus® workers in the Factory. Bay doors had previously been kept open to encourage air movement but their continued use was both inadequate to provide air movement to the entire factory during the hottest periods and restricted for security reasons.
Igus® asked that any extract fans produce minimal background noise and that we would not make any incursion through the roof for mounting. They also wanted a central control panel that could operate all installed units at once.
Naturally we were also looking to provide a solution that would fit in both ergonomically and aesthetically with the design of the building.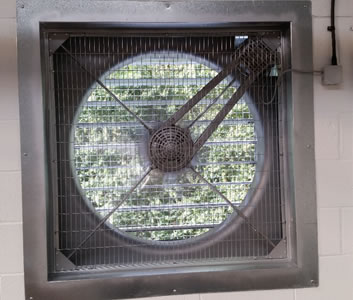 Our solution:
We designed an Extract Ventilation System powered by 3 No. Encon model HGI Large Diameter Axial Flow Fans mounted at high level in the rear wall of the factory. The beauty of the HGI fans (diagram from brochure inc. caption with specific unit name) is that they move large volumes of air at low speeds, thanks to the stainless steel impeller equipped with 6 self-cleaning blades aerodynamically designed to scoops large quantities of air with each rotation at low pressure. The result is remarkably low noise level, with easy servicing and minimal energy consumption, exactly matching the igus® specification.
To determine potential unit positioning, the original building blueprints were consulted, with the intention to provide an even spread of extraction across the whole area. Each fan was fitted with an internal support frame to fit between the horizontal purlins and a mitred trim frame on the external fascia powder coated to match the colour of the existing cladding, ensuring a neat and attractive finish.
We also supplied a bespoke control panel to mount onto the rear wall, as requested, which allows the user to either run the fans individually or simultaneously on full speed or variable speed, allowing the user to regulate the ventilation to suit current air movement requirements. The result was a minimalistic interface blended in with the colour of the breeze block wall.
Conclusion:
Using Encon's innovative problem-solving experience skills and our integrated range of suppliers, we were able to help igus® radically improve air movement in their Factory. Our solution was thoroughly unique and took on board the client's needs and requests, while offering them a simple, energy efficient and easy-to-use ventilation system that ensures improved comfort levels for staff during future summers.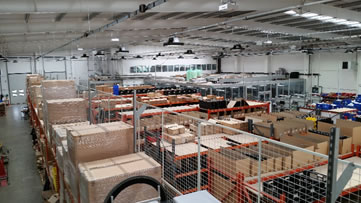 Client profile:
igus® plastics is a Germany-based multinational plastics components manufacturer, which turns 50 this year. It has bases in 33 countries and employs over 2000 people worldwide. The igus® product range includes injection-moulding polymers and linear and plain bearings. The UK branch began in 1991 and currently employs 80 people.